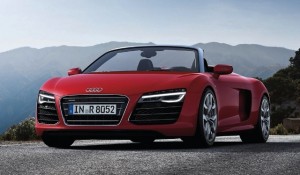 Audi has made its R8 high-performance sports car even more attractive & dynamic, with a totally new 7-speed S tronic transmission. The LED headlights and the new rear tail lights with new technology are standard equipment on all R8 variants.
On the Audi R8 Spyder the lid on the soft top compartment and the side parts are CFRP. The elegant, lightweight fabric top, with its largely aluminum and magnesium linkage, is the crowning touch to the ultra-lightweight design. The top opens and closes electrohydraulically in 19 seconds, and during driving at up to 50 km/h (31.07 mph).
The V10 engine provides a torque of 530 Nm (390.91 lb-ft) at 6,500 rpm, with 386 kW (525 hp) at 8,000 rpm.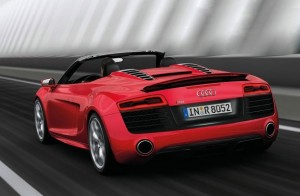 The R8 V10 Spyder with S tronic transmission completes the standard sprint to 60 km/h in 3.8 seconds and has a top speed of 311 km/h (193.25 mph)
If you would like to drive one of these incredible machines where they were meant to be driven – On the Autobahn,  we are taking deposits for our 2013 Audi R8 Spyder Tour !!