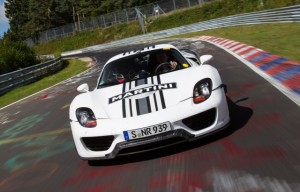 Porsches new halo car, the 918 Spyder has been spotted again testing in Germany at the famous Nürburgring, this time dressed up in a stunning Martini liveried white suit. The 918 Spyder will be billed mainly as a hybrid, powered by a 4.6 liter V8 with some 570 hp, a rear electric motor with some 120 hp and a front electric motor delivering some 110 hp. That means the 918 Spyder will deliver close 800 hp. With a price tag at around $850,000 USD, this will not be a car that you see at every corner. Porsche states that only 918 example will be built and will go into production at the end of September 2013 as planned, with the first customers receiving their vehicles before the end of 2013.
Porsche will be offering a "Race-Track" package for the 918, and while we aren't sure if this is the test mule for that, it sure looks the part. The harder-core "Race Track" package will be an addition charge to the already lofty price of the 918, and come with a stripped-out, club-racer style interior, and get this – the option of no paint, yes you read that right – no paint. Who said less doesn't cost more ?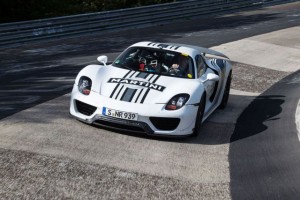 Porsche says the projected weight for the 918 Spyder is less than 1700kg. The weight saving of the track package is said to be around 30kg.  Porsche is figuring about 20 percent of 918 customers are expected to tick this option box. Porsche is still sticking to the total production to consist of only 918 cars which is slated to commence on September 18th, 2013.
Join us on our 2013 Autobahn Adventure and be one of the first to see the Porsche 918 Spyder unveiled at next year's Frankfurt Auto Show. We have limited spaces available. Contact us now !!