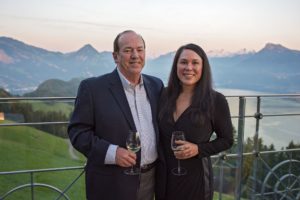 It seems if you're celebrating anniversaries it's done with a large family get together in 5 year increments. Birthdays are usually ones that end in zero and so many candles you couldn't possibly blow them out.  For me this last September was a birthday with a BIG Zero on the end.  However breaking tradition there was no family get together. My birthday celebration was just Lisa and I taking a "very nice little trip to Europe".  I mean REALLY nice!  This was the trip of a lifetime that we will never forget!
I have known Mark and Tina who own Autobahn Adventures as friends and clients for many years. However, in all that time had not found the time for OUR Autobahn Adventure.  This one looked perfect. The 4 Country Adventure exploring Germany, Austria, Switzerland and Italy in a new 911 as well as driving on 5 different alpine passes and a couple more on side trips.  Well that was only a very small part of the adventure!
Arriving in Frankfurt a couple days early we drove to the Nurburgring to see if a "track Prepared" Sirocco could hit a sub 7 minute lap time.  Well Porsche's records are not in danger any time soon! We met all our new friends that night for a wonderful dinner and the next day we attended the Frankfurt Auto show.  This was amazing. About 10 very large building some open on the interior for three stories housing just one marque.
You couldn't ask for a more thought through experience.  Mark and Tina were the perfect hosts to plan our adventure. Everything arrangement was first class!. We were provided a new 911 4S to drive for the 2 weeks. We stayed at 5 star hotels with some of the most incredible views that you only see in movies. Imagine waking up in a luxury boutique hotel to a view of the snowcapped Alps with a big blue lake a mile below and the sound of the cow bells in the distance. That experience is something I will never forget!  At the end of the day we had wonderful meals and excellent wine with all our new friends where we exchanged experiences of the day.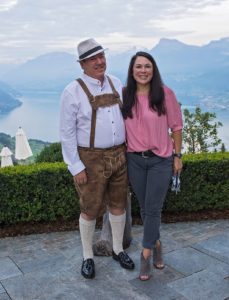 Our Friends and OCR members Eric and Candice Kaltenbach were also on the adventure.  At the end of the third day having a cocktail Eric and I decided this shouldn't be just a once in a life time adventure.  I know Eric and Candice have already signed up for another trip.  Also many of our OCR members have attended 3 or 4 different trips over the last few years.  About 24 other couples from various parts of the USA and Canada were on the adventure and were so much fun!  Some of the most interesting and funniest people I have ever met!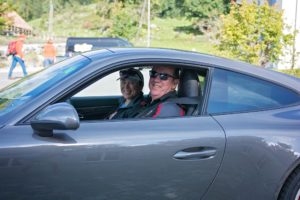 From Frankfurt during the next two weeks every day was a new adventure.  One of the best features of the trip was that this is not a driving tour where everyone gets into their cars in the morning and follows each other around Europe.  You stay two or three days in each hotel which is usually in the country several of which are world famous for their Spa's.  Your luggage is picked up and delivered to your room in the next hotel. There is plenty of time for hiking and other activities. I think every hotel had regular and electric bikes.  Mark and Tina usually had a handout for each destination and what they had planned for the next day or two if you wanted to come along. However, your time was your own and these day trips were optional. The 911 navigations systems were preprogrammed for about anywhere you might want to go. On several days 3 or 4 of us would go off and drive the countryside stop for a nice lunch which was usually on a lake.  One day 5 of the guys took a drive to the top of a mountain on the Austrian border to visit a motorcycle museum housed in the original remodeled border crossing facilities.  The ladies decided to spend that day at the hotel spaJ.I'll let the photo's speak for themselves but you owe it to yourself to take your own Autobahn Adventure. I particularly like the hotel shown in the video where you drive the car into the lobby to register!
---