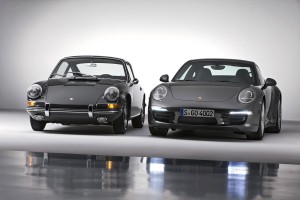 For five decades, the 911 has been the heart of the Porsche brand. Few other automobiles in the world can look back on such a long tradition and with such genuine continuity as the Porsche 911. It has been inspiring car enthusiasts the world over since its debut as the Type 901 at the IAA International Automotive Show in September 1963. Today it is considered the quintessential sports car, the benchmark for all others. The 911 is also the central point of reference for all other Porsche series.
For Porsche, the 50th anniversary of this iconic sports car is the central theme of 2013. There will be a wide variety of anniversary events all over the world. The Porsche Museum is also celebrating "50 years of the Porsche 911" from June 4 – Sept. 29, 2013, with a special exhibition featuring the history and development of the 911.
The celebrations will culminate in September where Porsche will unveil a special limited 50th anniversary edition 911 at the place where it all started, the Frankfurt IAA automotive show.
Why not join us this year on our Luxury European Driving Tour to celebrate the 911's birthday.?