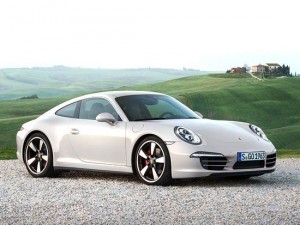 Porsche is celebrating the 50th anniversary of the 911 at the International Motor Show (IAA) in Frankfurt with a special model based on the 911 Carrera S: like the original 911, the 911 50th Anniversary Edition is a coupé with a flat-six rear engine and rear wheel drive. Its efficient performance, active sport suspension – and special body have current relevancy: the anniversary 911 features the wide body, which is typically reserved for the all-wheel drive Carrera 4 models. This special edition will be limited to 1963 cars, a number that represents the year of the 911 world premiere.
Two unique colours are available for the anniversary 911, a darker graphite grey and a lighter geyser grey metallic.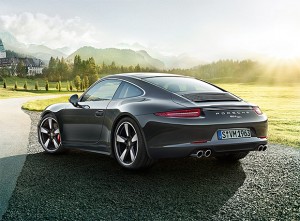 There are tributes to the original 911 in the interior as well: green labelling on the instruments with white pointer needles and silver caps on the instrument pivot pins, just like 50 years ago. Another special feature is the centre panels of the leather seats, which are designed with a fabric pattern reminiscent of the "Pepita" tartan design from the 1960s. The full-leather interior is designed in agate grey or black with decorative stitching, some in contrasting colour. The gear shift or selector lever – which matches the decorative panels on the dashboard, doors and centre console in brushed aluminium – comes from the Porsche Exclusive program.