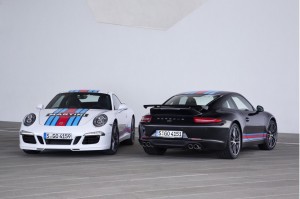 Porsche introduces 911 Carrera S Martini Racing Edition to celebrate their return to Le Mans this weekend. It wears the Martini racing colors sported by legendary Porsche racers of the 1970s, such as the 917 and 935 "Moby Dick." The red and blue stripes are complemented by either a black or white body color, and the car gets Porsche's Aerokit Cup body kit for some added visual flair.The interior features body-color accents with "Martini Racing Edition" badging, as well as red illuminated stainless-steel sill panels. Standard equipment includes a sport-design steering wheel and the performance-enhancing Sport Chrono package; buyers can also specify the Porsche Communication Management package, which bundlesnavigation, a Bose sound system, black-faced tachometer, and black-leather sport seats.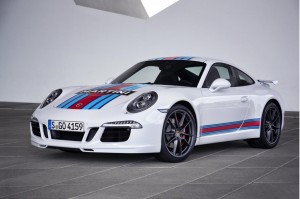 Underneath the stripes, the Martini Racing Edition is mechanically identical to a normal 911 Carrera S. That means buyers get a 3.8-liter flat-six, with 400 horsepower and 325 pound-feet of torque, available with either a seven-speed manual or PDK dual-clutch automated transmission. With the PDK and Sport Plus mode activated, the Martini Racing Edition will do 0 to 62 mph in 4.1 seconds, the same as a stock Carrera S.
The Martini Racing Edition will be limited to 80 units, and will launch in Europe this month. It will then be offered in China beginning in August, and Japan and Latin America beginning in October. So far, Porsche hasn't discussed plans to offer the model in the U.S.