Porsche has revealed a special edition which celebrates 40 years of the 911 Turbo. Essentially a mobile advert for Porsche's 'Exclusive' personalisation scheme,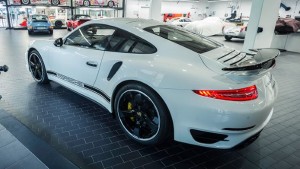 the 911 Turbo S Exclusive GB Edition plays host to an array of aesthetic additions.
The 552bhp, four-wheel-drive underpinnings of the Turbo S remain untouched, with all of the special edition's changes affecting the interior and exterior.
There are plenty of gloss black features – 20in Sport Classic alloy wheels, rear spoiler, wing mirrors – while Porsche decals run down the doors. The interior has plenty of contrasting red courtesy of the stitching, seatbelts and floor mats, while the Porsche badge is embossed on the head restraints and, rather more unusually, the Union Jack flag is embossed on the storage bin.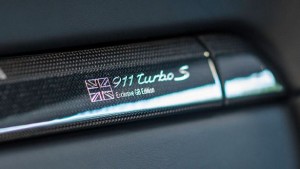 Three colours are available – white, silver and classic Porsche hue Guards Red – while all GB Editions come with a photo book of their production process, an indoor car cover and what Porsche describes as 'unique design sketches'.
A limited run of 40 will come to the UK, priced at £150,237 – around £9500 more than a standard 911 Turbo S. With a 197mph top speed and a claimed (though pessimistic) 3.1sec 0-60 time, the 991-generation S is among the fastest production cars in Porsche's history.